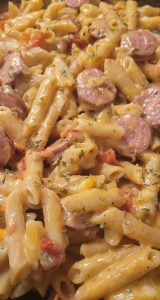 FB recipe for the win again! My boys are devouring it! Sooooo good!

1 diced onion
1-1.5 lbs of smoked sausage (I used a pack of Johnsonville kielbasa I had here at home)
Garlic (as much as your heart desires)
Salt & pepper (to taste)
Italian seasoning (to taste)
2.5 cups chicken broth
1/2 cup heavy whipping cream
1 can fire roasted diced tomatoes (14.5 oz can)
12-16 oz pasta
2.5 cups of cheese of your choice (I used mozzarella and cheddar cause that's all I had here but pepperjack would be awesome with this too!)
Add diced onion and sliced sausage to pan until onion cooks down a bit and sausage browns up. Add garlic, salt, pepper & seasoning and stir and cook for 1 minute. Pour in chicken broth, heavy whipping cream, fire roasted tomatoes and pasta and stir. Cover and simmer for about 20 minutes stirring every 5 minutes until pasta is tender. Add cheeses of your choice, stir and enjoy! I topped with parsley to make it look fancy. Lol.