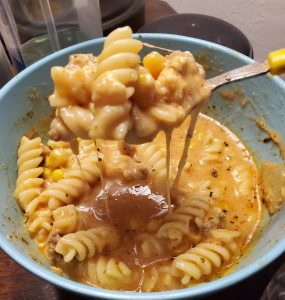 Lasagna Soup!

Chicken broth (32 oz)
Ricotta cheese (15oz)
Spaghetti sauce (1 can)
1 pound hamburger or Italian sausage, browned and drained
1/2 onion
3 tablespoons minced garlic
1 box noodles, any shape (you may even used broken up pieces of lasagna noodles if you wanted!)
Salt and pepper to taste
Italian seasoning

In large pot whisk broth, spaghetti sauce and ricotta cheese until cheese is melted and mixed. Add salt, pepper and italian seasoning. Taste your mixture and season to your preference. Bring to a boil.
Toss your noodles in and cook until al dente.
In skillet, brown hamburger, diced onion and minced garlic. Drain and toss into sauce and noodle mixture.
You're done! Top with shredded or parmesaen cheese!