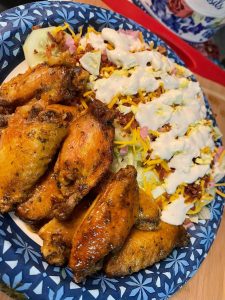 Baked Ranch Wings
Ingredients:
2 lbs chicken wings
1/4 cup all-purpose flour
1 tsp garlic powder
1 tsp onion powder
1 tsp dried thyme
1 tsp dried oregano
1 tsp salt
1/2 tsp black pepper
1/2 cup ranch dressing
Instructions:
Preheat the oven to 400°F (200°C).
In a small bowl, mix together the flour, garlic powder, onion powder, thyme, oregano, salt, and black pepper.
Coat the chicken wings in the flour mixture and place them on a baking sheet lined with parchment paper.
Bake the wings for 30-35 minutes or until crispy and fully cooked.
Remove the wings from the oven and toss them in ranch dressing until evenly coated.
Serve hot.