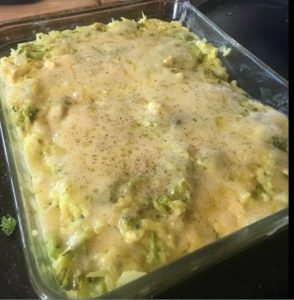 *Ingredients
°2 cups of water
°2 cups uncooked rice
°1 can 10 oz cream chicken soup
°1 can 10 oz cream of mushroom soup
°2 cups cooked chicken, shredded
°¼ cup butter
°1 cup milk
°1 small white onion
°16 ounces broccoli chunks
°2 cups cheddar cheese, grated
*Instructions
FIRST STEP:
Preheat the oven to 350*
Cook the rice according to the instructions
SECOND STEP:
In a 9×13 baking dish, put the rice and the chicken, add the soups, the butter, the broccoli and the onion. Mix with 1 cup of cheese
Bake 30 to 35 minutes
THIRD STEP:
For the last few minutes, sprinkle the rest of the cheese on top and allow to melt.
Remove from oven and let stand for 5 minutes.
FOURTH STEP:
Serve with a dinner salad or breadsticks.