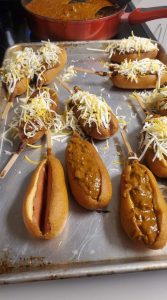 Can't believe I never thought of doing this!
Chili Cheese Corn Dog
Ingredients
8 corn dogs, cooked per package instructions
2 cups cooked chili, divided
1 cup (113 g) sharp cheddar cheese, finely shredded, divided
1 small onion, finely diced, divided
1 medium jalapeno pepper, seeded and finely diced, divided
Instructions
Carefully remove the wooden stick from the cooked corn dogs.
Slice each corn dog vertically down the center, about halfway through, being careful not to cut through all the way through the bottom.
Into the cut, add chili, cheese, onion, and jalapeno.
Serve warm!