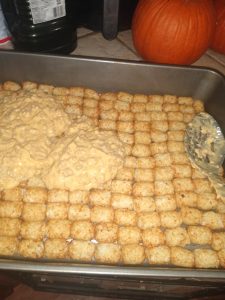 Perfect cold weather casserole!…. Btw this is what I use for a family of 13. I make 2 pans.

Adding recipe to actual post.
tater tot casserole.
recipe feeds a family of 13-15
3 ragu cheese sauce
3 cream of chicken
3 cream of mushroom
5lbs hamburger
Tater tots
Shredded cheese
Line pan with tater tots and bake until crispy
Brown hamburger. Add soups add cheese sauce mix and then throw over tots
Top with shreddee cheese. Oven on 425 until cheese is melted and bubbly.
Super easy.