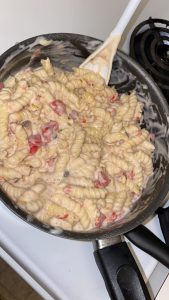 thank you to whoever posted this the first time! this is a weekly meal in our household!
• 1 box of pasta (i use rotini or penne)
• 1 can of Rotel
• 1 can cream of mushroom
• 1 16-oz loaf of velveeta (i use the queso blanco kind)
• dash of garlic powder
cook pasta. mix all ingredients together until the cheese is melted. combine pasta with mixture. done!