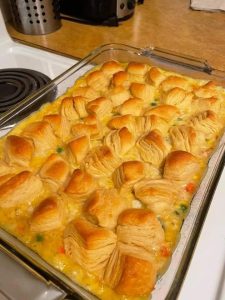 Creamy, delicious, and super easy this Chicken Pot Pie Casserole is topped with cheddar biscuits and is the perfect simple weeknight dinner.
Ingredients
2 cups chopped cooked chicken
1 16 oz pkg frozen mixed vegetables
2 10.5 oz cans cream of chicken soup
1 1/2 cup milk
1/2 tsp Italian seasoning
1/2 tsp onion powder
1/2 tsp garlic powder
Salt and pepper to taste
Milk
1 16 oz can of flaky biscuits
1/2 cup freshly shredded cheddar cheese
Fresh thyme optional
Instructions
Preheat over to 350.
In a large pan add your chicken, vegetables, soup, milk, and seasonings, and stir to combine.
Heat over medium heat on the stove until it comes to a light boil and simmer for about 10 minutes.
Pour into an uncreased 9″x13″ baking dish and spread out evenly.
Top with 8 flaky biscuits and brush the tops of biscuits with a little bit of milk and top each with some of the cheese.
Bake in the oven for about 30 minutes until biscuits are cooked through and golden and the filling is bubbly.
Garnish with fresh thyme if desired.
Notes
We like to use 2 cans of cream of chicken soup, you can do a can of cream of chicken and a can of cream of mushroom if you like.
For more full coverage of the topping, you can rip the biscuits up or use smaller biscuits like these to top.
You can use fresh vegetables if you like, we use frozen for ease of use.
Freshly shredded cheese melts better, so we opt to shred directly from a block of cheese.
If you want a thicker filling, reduce the amount of milk, if you want a thinner filling increase the amount of milk.
You can forgo boiling the mixture and adding it into the pan directly but bake for about 15 minutes then remove and add the biscuits.
You can use rotisserie chicken if you would like.
Nutrition
Calories: 496kcal | Carbohydrates: 55g | Protein: 16g | Fat: 24g | Saturated Fat: 7g | Cholesterol: 35mg | Sodium: 1262mg | Potassium: 492mg | Fiber: 4g | Sugar: 6g | Vitamin A: 4405IU | Vitamin C: 9mg | Calcium: 207mg | Iron: 4mg