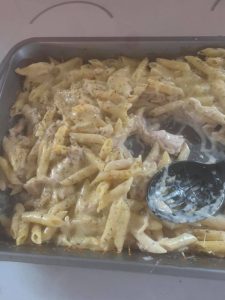 Chicken bacon ranch pasta bake
1 container of Alfredo 15 oz
1/2 cup ranch dressing
2 cups cooked chicken
1-2 cups of bacon bits (I ran out but would have done more)
Mixed all together with penne pasta,
Covered in mozz cheese
Baked at 350 for 15 mins
Creamy Chicken Bacon Ranch Pasta Bake
Ingredients:
1 pound (16 oz) penne pasta, cooked al dente according to package instructions
1 container (15 oz) of Alfredo sauce
1/2 cup ranch dressing
2 cups cooked chicken, shredded or diced
1-2 cups bacon bits (adjust according to your preference)
1 1/2 cups shredded mozzarella cheese
1/2 teaspoon garlic powder
1/2 teaspoon onion powder
1/4 teaspoon black pepper
1/4 cup fresh parsley, chopped (for garnish)
Instructions:
Preheat the Oven: Preheat your oven to 350°F (175°C).
Prepare the Pasta: Cook the penne pasta al dente according to the package instructions. Drain the pasta and set aside.
Prepare the Chicken: If you haven't already, cook and shred the chicken. You can use leftover rotisserie chicken or cook chicken breasts/thighs with your preferred seasoning.
Prepare the Sauce: In a large mixing bowl, combine the Alfredo sauce and ranch dressing. Mix well until the two are fully incorporated.
Add Chicken and Bacon: Add the cooked and shredded chicken to the sauce mixture. Then, fold in the bacon bits. Adjust the quantity of bacon according to your taste preference. Mix until everything is evenly coated in the sauce.
Season the Mixture: Sprinkle the garlic powder, onion powder, and black pepper over the chicken and bacon mixture. Stir to incorporate the seasonings evenly.
Combine with Pasta: Add the cooked penne pasta to the sauce and meat mixture. Gently toss everything together until the pasta is well coated with the sauce and the chicken and bacon are evenly distributed.
Transfer to Baking Dish: Transfer the pasta mixture into a greased 9×13-inch baking dish, spreading it out evenly.
Top with Cheese: Sprinkle the shredded mozzarella cheese evenly over the top of the pasta mixture, covering it completely.
Bake: Place the baking dish in the preheated oven and bake for 15-20 minutes, or until the cheese is melted and bubbly, and the edges are golden brown.
Garnish and Serve: Remove the pasta bake from the oven. Let it cool for a few minutes. Garnish with fresh chopped parsley for a burst of color and added flavor.
Serve: Scoop out generous portions onto plates and enjoy your delicious and comforting Chicken Bacon Ranch Pasta Bake!
This dish pairs well with a simple side salad or garlic bread. Enjoy your homemade pasta bake!
Q1: Can I use a different type of pasta instead of penne? A1: Yes, you can use a different type of pasta if you prefer. Penne works well because its shape holds the creamy sauce, but you can experiment with other pasta shapes like rotini, rigatoni, or fettuccine.
Q2: Can I use homemade Alfredo sauce instead of a store-bought container? A2: Absolutely! If you prefer homemade Alfredo sauce, feel free to substitute it in. You can find various recipes online, and making it from scratch can add a personal touch to your dish.
Q3: Can I make this dish ahead of time and refrigerate it before baking? A3: Yes, you can assemble the pasta bake ahead of time, cover it tightly, and refrigerate it for up to 24 hours before baking. Just make sure to bring it to room temperature for about 15-20 minutes before baking to ensure even cooking.
Q4: Can I freeze leftovers? A4: Yes, you can freeze leftovers in an airtight container for up to 2-3 months. When reheating, thaw it in the refrigerator overnight and then reheat in the oven at 350°F (175°C) until heated through.
Q5: Can I use turkey bacon or vegetarian bacon as a substitute for regular bacon? A5: Yes, you can substitute turkey bacon or vegetarian bacon if you prefer a non-pork option. Just ensure they are cooked and crumbled before adding them to the dish.
Q6: Is there a way to make this dish spicy? A6: If you enjoy spice, you can add a pinch of red pepper flakes to the sauce mixture or sprinkle some cayenne pepper when seasoning the chicken and bacon. Adjust the amount according to your spice tolerance.
Q7: What can I serve with Chicken Bacon Ranch Pasta Bake? A7: This dish pairs well with a simple side salad dressed with a light vinaigrette or some garlic bread. The freshness of a salad or the warmth of garlic bread complements the richness of the pasta bake.
Q8: Can I use low-fat or light versions of Alfredo sauce and ranch dressing? A8: Yes, you can use low-fat or light versions of the sauces if you're looking for a lighter option. Keep in mind that the flavor and consistency might vary slightly, but it should still be delicious.