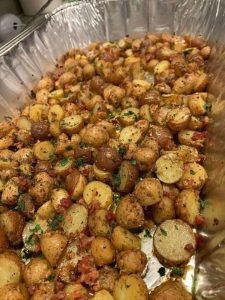 Ingredients:
Potatoes Cut in to smaller size pieces (I use Russet Potatoes)
Some tsp of olive oil
2-3 cloves garlic,
1 to 2 tsp fresh parsley
Fresh grated Parmesan cheese
Salt also pepper
Instructions:
Preheat oven to 450 °F.
Cutting potatoes into cubes or wedges. Bring a pot of water to a boil.
Add potatoes and cook for 3 to 6 minutes depending on size.
While potatoes are cooking put oil in a cast iron skillet or another heavy
pan also heat in the oven.
Drain potatoes also placing them back in the pot. Put the pot back
on the burner also shake to dried potatoes and rough up their
surface.
Add the potatoes to the hot oil, toss to coat, and roast turning once or twice.
When potatoes are almost tender sprinkling with fresh
garlic and Parmesan, salt and pepper, and roasting to
potatoes are tender. Turning at least one more time about even brown
Just before serving, toss with fresh chop parsley.