---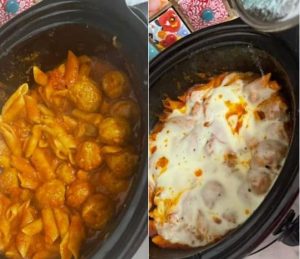 Super easy crock pot meal!
I threw it together with stuff I had on hand!
I put frozen meatballs in crockpot on high- let them cook about 30ish minutes then added a bottle of spaghetti sauce, added water to the bottle, about half way, shook it up and added it back to the mixture, threw in half a box of penne paste, salt, pepper and garlic salt! Let it cook till pasta is done, may have to add more water in between, just keep an eye on it! When it was done I added provolone cheese on top! Everyone loved it!