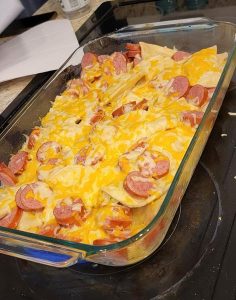 Pierogie & Kielbasa casserole!

2 boxes of pierogies.
1 package of smoked sausage (kielbasa).
1 can of chicken broth.
1 bag of shredded cheese.
(1 can of green beans, optional)

Bake the (frozen) pierogies, sausage, and half a can of chicken broth, all together at 400° for 30mins.
Add the shredded cheese on top and put back in oven for 5 mins, to melt the cheese.
I season mine with garlic salt.