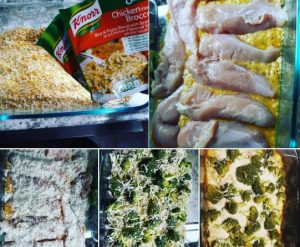 Here is an easy recipe that takes 5 minutes to throw together and about 45 min to an hour at 350°

*2 packs chicken and broccoli rice
*1 can cream of onion soup
*1 can veggie or chicken broth. I had veggie on hand
*Mix together in baking dish.
*Add boneless skinless chicken tenders to cover rice.
*Sprinkle chicken with 1 packet ranch seasoning
*Put fresh broccoli florets on top of chicken.
*Sprinkle mozzarella or cheddar cheese on top*Cover with foil and bake for 45 min to an hour so until chicken is fully cooked.