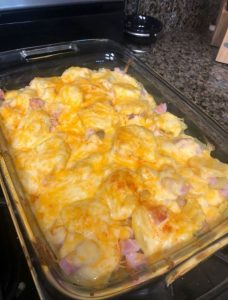 Ingredients :
1 can cream of chicken
1 can of cream of mushroom soup
1 can milk (whole or 2% measured in a can of soup)
1/4 teaspoon seasoned salt
1/8 tsp black pepper
6 potatoes
3-4 c smoked ham
1/4 cup finely chopped onion (optional)
1 cup shredded extra-sharp white cheddar cheese
1 teaspoon grated cheddar cheese (yellow)
2 1/2 cups crushed cornflakes
4 tablespoons salted butter, melted
Directions
1. Prepare and assemble all the ingredients.
2. Butter, or lightly coat with cooking oil spray, a 9″x13″ pan; put aside.
3. In a large bowl, using a large spoon, combine the two soups.
4. Add can of milk.
5. Add seasoned salt and pepper; mix well; put aside.
6. Peel the potatoes and cut four into thin slices in a food processor or mandolin; immediately add them to the soup mixture and mix well.
7. Replace the food processor blade with a grater/grater (or use a cardboard grater); grate the remaining two potatoes; immediately add them to the soup mixture and mix well.
8. Adding ham and onion (if using) & mix.
9. Place the oven rack in the middle position and preheat the oven to 350ºF.
10. Pour the mixture into the prepared baking dish and smooth.
11. Spread both cheeses evenly on top; put aside.
12. In a bowl, combine crushed cornflakes and melted butter to coat.
13. Sprinkling cornflakes over the cheese layer.
14. Baking at 350ºF for 1.5 hours, turning pan once after 45 minutes.
15. Remove from oven and let stand 5 min before serving.