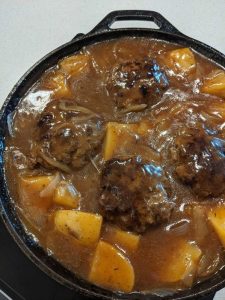 Salisbury Steak And Potato Skillet

You'll Need
2 tablespoons olive oil
1 lb ground beef
1 white onion, halved and sliced
4-6 medium Yukon Gold Potatoes
3 cups beef broth, divided
2 tablespoons ketchup
4 teaspoons Worcestershire sauce, divided
1 teaspoon garlic powder, divided
1/4 teaspoon dried thyme
3 tablespoons cornstarch
Kosher salt and freshly ground black pepper, to taste
PREPARATION
In a medium bowl, combine ground beef, 2 teaspoons Worcestershire sauce, 1/2 teaspoon garlic powder, salt, and pepper, and mix to combine. Shape into four equal-sized patties about 1/2-inch thick.
Heat olive oil in a large skillet over medium-high heat. Brown patties on each side, then remove to a plate and set aside.
Meanwhile, pierce each potato with a fork a few times, then microwave for 5 minutes. (This is to lessen the cooking time in the skillet.) Once cool enough to handle, chop into 1 1/2-inch pieces.
Add onions to the same skillet you browned the beef in, season with salt and pepper, and cook until soft, about 5 minutes.
Add chopped potatoes and 2 cups broth to the skillet. Bring to a simmer and let cook until potatoes are tender, about 5 minutes.
Stir together the remaining 1 cup of beef broth, ketchup, Worcestershire sauce, garlic powder, thyme, and cornstarch. Pour into skillet and cook, stirring frequently, until mixture thickens.
Reduce heat to low, return patties to the skillet, and let cook until patties are hot and cooked through. Season gravy to taste with salt and pepper and enjoy!