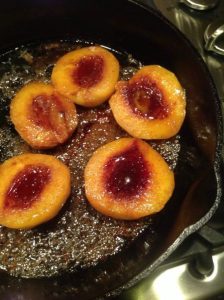 Southern Fried Peaches
"Yummy different way to do peaches..very much like traditional fried apples but with peaches!"
Ingredients
2 large firm peaches, not too ripe
2 tablespoons butter
4 tablespoons sugar
2 tablespoons brown sugar
Directions
Peel and halve peaches.
Melt butter in skillet.
Place cut side down in skillet.
When edges are browned, turn over.
Sprinkle with half the sugars and allow other side to brown.
Turn once more and sprinkle with remaining sugars.
Cook until sugars caramelize slightly, turning peaches to coat.
Serve as is or top with whipped cream and chopped pecans.