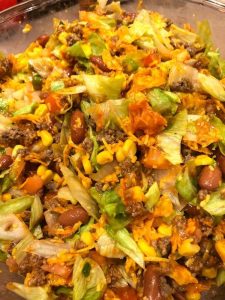 Doritos Taco Salad – A Recipe You Don't Wanna Miss
Ingredients :
1 lb hamburger
1 (1 1/4 ounce) packet taco seasoning
3/4 cup water
1 (13 ounce) bag Doritos
2 cups shredded cheddar cheese
shredded lettuce
chopped tomato
Directions:
1 Cook crumbled hamburger until no longer pink. Add taco seasoning and water and cook according to the taco seasonings directions.
2 Put Doritos on four plates (as little or as much as you like). Top with finished cooked hamburger. Sprinkle with cheddar cheese (again, as much or as little as you like). Top with shredded lettuce and tomatoes. If there are other taco toppings you like, add them too.