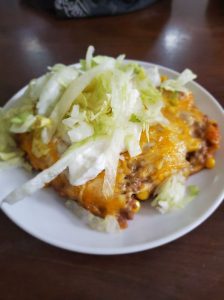 Taco casserole
Ingredients:
1 lb ground beef, browned and drained
1 packet taco seasoning
1 small onion, finely chopped
1 can corn, drained
1 can chili beans
1 can Rotel tomatoes, drained
1 can cream of chicken soup
1/2 can of water
1 bag tortilla chips
2 cups Mexican cheese blend, shredded
Salsa, for serving
Lettuce, shredded, for serving
Sour cream, for serving (optional)
Instructions:
1. Preheat the Oven:
Preheat your oven to 325°F (163°C).
2. Prepare the Meat Mixture:
In a large skillet, brown the ground beef over medium heat. Drain excess fat. Add taco seasoning and chopped onion. Cook until the onion is soft and translucent.
3. Add Vegetables and Soups:
To the cooked meat, add drained corn, chili beans, Rotel tomatoes, cream of chicken soup, and half a can of water. Mix well and let it simmer for a few minutes until everything is well combined and heated through.
4. Layer the Casserole:
Line the bottom of a 9×13-inch baking pan with a layer of tortilla chips.
Spoon half of the meat mixture over the chips.
Add another layer of tortilla chips.
Spoon the remaining meat mixture over the second layer of chips.
5. Add Cheese and Bake:
Cover the entire casserole with shredded Mexican cheese blend.
6. Bake:
Bake the casserole in the preheated oven for 20 to 30 minutes, or just until the cheese is melted and bubbly.