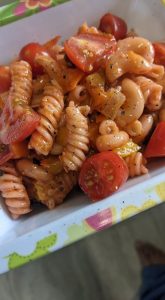 Cheap & Easy cold pasta salad.

1 box of your favorite pasta (Bow tie is what I normally use but was out so used macaroni and rotini)
1 Yellow & 1 Orange pepper diced.
1/2 Onion Diced
Fresh mushrooms, sliced
A few chopped cherry tomatoes.
Grated Parm cheese
Kraft Catalina salad dressing
Any kind of seasoning you want (S&P, Italian, etc)

Cook pasta until just about done, but not fully cooked. Run under cool water. Chop up all other ingredients and toss in a bowl. Add pasta, and enough dressing to coat the pasta and veggies. Store in fridge and let flavors blend. It's better the next day
The best thing with this is you can add pretty much any veggies you have!