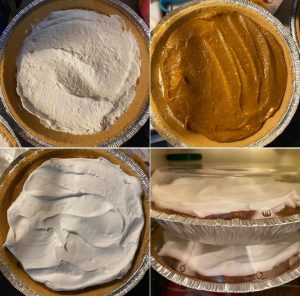 here is an interesting twist to pumpkin pie I made tonight. I used just about all great value brand, so it's all affordable! Each picture is each layer.

No bake Pumpkin Pie
•2 cups canned pumpkin
•1/2 cup sugar
•8 ounces cream cheese softened
•Two 8-ounce containers of whipped cream
•1 tablespoon cinnamon
•2 teaspoons pumpkin pie spice
•1 teaspoon nutmeg
•One 3.4-ounce box vanilla pudding mix
•1 cup milk
•2 pre-made crusts (I chose graham cracker)

Instructions:

•For first layer, blend together cream cheese, sugar, and 1 container of whipped cream with a hand mixer. Divide evenly into the bottom of your pie crusts.
•For second layer, mix pudding and milk until it thickens. Then add 2 cups of canned pumpkin. Add the cinnamon, nutmeg, and pumpkin pie mix. Divide evenly over the first layer of the pies.
•For third layer, split the second container of whipped cream and spread over the pie.