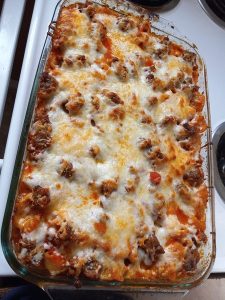 I have decided to share this recipe again because there has been some more interest when I've been suggesting this casserole on other posts! I call this my lasagna casserole, but this is a recipe I found on CookingWithCarlee.
My favorite thing about this casserole is you do not need to pre-cook either the noodles OR the meat! And the meat does NOT come out greasy at all! I know, I was shocked, too!
Here is the recipe, and I will include photos of the process!
Ingredients:
1lb uncooked noodles (I used medium shells in these pictures, but I recently used rotini and loved it!)
1lb ground Italian sausage
1 24oz jar spaghetti sauce
1 15oz container ricotta
3 cups chicken broth
2tsp chopped garlic
1/2 tsp oregano
2cups shredded mozzarella (I highly recommend using a bag of Italian blend cheese instead, but mozzarella is just as good!)
Directions:
– Preheat your oven to 425°
– Grease a 9×13 Casserole dish
– In a large bowl, combine the spaghetti sauce and chicken broth. Add in the oregano and chopped garlic and mix well.
– Spread half of the uncooked pasta on the bottom of the casserole dish.
– Separate your sausage into two halves. Break 1 half into small pieces and evenly distribute over the uncooked pasta.
– Dollop half of the ricotta evenly over top of the sausage and pasta.
– Repeat this process with the remaining uncooked pasta, sausage, and the ricotta.
– Slowly pour in the sauce mixture so it is evenly distributed throughout the pan. (I give it a few side-to-side shakes at the end to make sure it's even)
– Cover tightly with aluminum foil and bake in the oven for 50 minutes. The pasta should be al dente at this point. If it is not, cover and cook a few more minutes.
– Remove the foil and Sprinkle the cheese evenly across the top of the casserole.
– Bake uncovered for 10 minutes until the cheese is nicely melted and starting to golden on top.
– Let sit a few minutes to cool, then serve and enjoy!