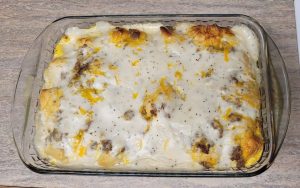 This was pretty cheap and super easy! Breakfast casserole bake.

1 can of biscuits, cut into fours and layered on the bottom
1 thing of breakfast sausage cooked and layered ontop of the biscuits
1 cup shredded cheese over the sausage and biscuits
6 eggs scrambled (Not cooked) with pepper and salt and dumped ontop of biscuits, sausage, and cheese
2 cups country gravy cooked, dumped on top.
Put into 350 degree oven for 30 minutes or until biscuits/eggs cooked.

So goooood! I fed 5 people and had some left over.