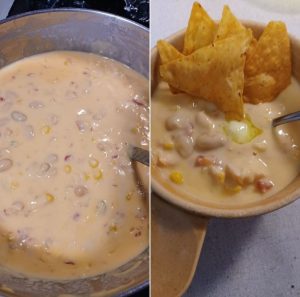 White chicken chili. This is delicious. I love to cook but this is NO cooking and literally just dumping cans! Great for those who do not share my love of cooking or want something in a hurry.
3 cooked and chopped chicken breasts or 2 large cans of white chicken. (I used canned)
2 cans cream of chicken soup
2 cans of navy or cannellini beans, I think cannellini taste better.
1 10oz can of Rotel tomatoes. I used mild.
2 cans of shoepeg corn. Couldn't find the shoepeg so I used 1 large can of white and yellow sweet corn.
16 ounces of Velveeta cheese
2 soup cans of water
Drain water off the top of the beans, and toss in a large pot or Dutch oven. Drain water off the chicken and toss in. Add drained corn, cream of chicken soup, 2 cans of water, and tomatoes. Stir to combine and add chopped-up Velveeta. Keep low and stirring so it does not scorch on the bottom and until cheese is melted. Serve over crushed tortilla chips.