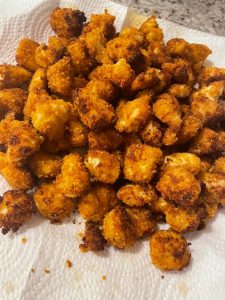 The easiest and yummiest air fryer chicken nuggets I've ever made.
Cut up chicken tenders or breasts to the desired size. Put raw chicken in a zip lock baggie and add a scoop and a half of mayonnaise. Close and mix it up so the mayo is all over all the chicken pieces. Then add a bag or two of shake-n-bake EXTRA CRISPY. (The best) shake shake shake. Then cook at 350°F for 12 minutes in your air fryer. Absolutely delicious!
If you like pickles I marinated my raw chicken in pickle juice for a few hours before cooking. Gives it a good little tang.