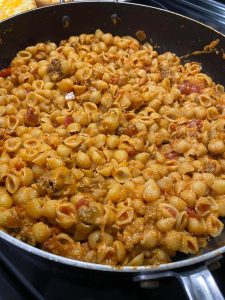 Mom and Dad wanted taco pasta for their anniversary supper, so that is what I made!
1/2 pound large shells of pasta
1 pound ground beef
1 tablespoons taco seasoning (or 1 packet)
3/4 cup water
1 cup jarred salsa
1 cup shredded cheddar cheese
Cook pasta and drain. Cook hamburger, drain fat, then add taco seasoning and water. Stir until the water is gone.
Add pasta, salsa, and cheese to the beef, and stir to combine!