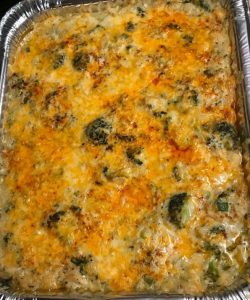 BROCCOLI, RICE, CHEESE, AND CHICKEN CASSEROLE

INGREDIENTS:
2 cups water
2 cups uncooked instant rice
2 (10 ounce) cans chunk chicken, drained
1 (10.75 ounce) can condensed cream of mushroom soup
1 (10.75 ounce) can condensed cream of chicken soup
1/4 cup butter
1 cup milk
1 (16 ounce) package frozen chopped broccoli
1 small white onion, chopped
1 pound processed cheese food
INSTRUCTIONS:
Preheat oven to 350 degrees F
In a medium pan, heat the water to the point of boiling. Blend in the rice, spread, and remove from heat. Let it stand for five minutes.
In a 9 x 13-inch heating dish, blend the rice, chicken, cream of mushroom soup, cream of chicken soup, butter, milk, broccoli, onion, and prepared cheddar.
Prepare in the preheated oven for 30 to 35 minutes, or until cheddar is softened.
This dish turned out nowhere close to tasteless!