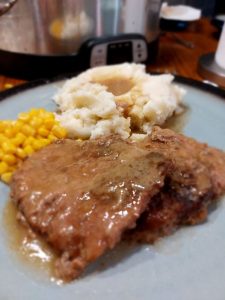 Crockpot cube steak, mashed taters and corn. Had mine with cauliflower mash. It is so easy.
Put family pack of cube steak in crockpot, sprinkle pack of onion soup mix over the top, and 2 cans of cream of mushroom soup (I put 1 can on bottom of crock and then the other over the top. Cook on low 8 hours
Crockpot Cube Steak with Creamy Mashed Potatoes and Corn
Ingredients:
1 family pack of cube steak
1 packet of onion soup mix
2 cans of cream of mushroom soup
4 large potatoes, peeled and diced
1/2 cup milk
4 tablespoons butter
Salt and pepper, to taste
2 cups corn kernels, fresh or frozen
Chopped chives or parsley for garnish (optional)
Instructions:
Prepare the Crockpot:

Place the cube steak in the crockpot.
Sprinkle the onion soup mix evenly over the steak.
Pour one can of cream of mushroom soup over the steak in the bottom of the crockpot.

Layer and Cook:

Place another layer of cube steak on top of the first layer.
Pour the remaining can of cream of mushroom soup over the second layer of steak.
Cover the crockpot and cook on low for 8 hours. The cube steak will become tender and flavorful.

Prepare the Creamy Mashed Potatoes:

While the cube steak is cooking, boil the diced potatoes in a pot of salted water until tender, about 15-20 minutes.
Drain the potatoes and return them to the pot.
Mash the potatoes with a potato masher or fork until smooth.
Add butter and milk, and continue mashing until creamy and well combined.
Season with salt and pepper to taste. Keep warm until serving.

Prepare the Corn:

If using fresh corn, boil or steam the corn until tender. If using frozen corn, follow the package instructions to cook.
Drain the corn and set aside.

Serve:

To serve, place a generous portion of creamy mashed potatoes on each plate.
Top the mashed potatoes with a serving of tender cube steak and spoon the creamy mushroom sauce over the steak.
Serve with a side of corn.
Garnish with chopped chives or parsley if desired.