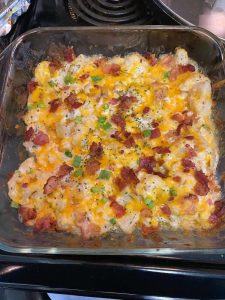 Loaded Cauliflower Broccoli Casserole Recipe 
Ingredients
8 slices of bacon, fried crispy
1/2 large head cauliflower, cut into florets
1/2 large head broccoli, cut into florets
1/2 cup sour cream
1/2 cup mayonnaise
1 tablespoon heavy cream
¼ teaspoon black pepper
1 cup shredded colby & monterey jack cheese
1 cup sharp cheddar cheese
6 tablespoons chopped fresh chives, divided
Instructions :
Preheat oven to 370 degrees.
Fry the bacon in a large skillet until crispy and crumble. Set aside.
Steam cauliflower and broccoli until tender, about 15 to 20 minutes.
Combine the sour cream, mayonnaise, heavy cream, & black pepper in a large bowl. Add the steamed cauliflower & broccoli florets, 1/2 of the bacon, 1 cup sharp cheddar cheese and 3 tablespoons chives & mix well.
Transfer to a baking dish sprayed with cooking spray and top with the colby & monterey jack cheese and the other half of the bacon.
Cover dish with foil and bake for 20 minutes. Remove foil and bake another 5-10 minutes or just until cheese is bubbly and beginning to brown.
Enjoy!