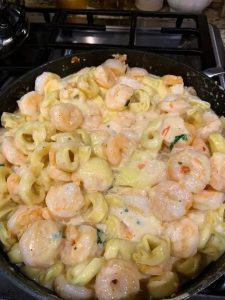 Shrimp Tortellini Alfredo Skillet Recipe
You'll Need
1 pound frozen peeled and deveined baby shrimp
1 stick butter, divided
1-pint heavy cream
4 ounces of cream cheese
¼ cup chopped leek
¾ cup grated parmesan
1 tsp garlic powder
salt / ground black pepper
1 pound cheese tortellini
1 teaspoon chopped fresh parsley
Step by step :
Thaw frozen shrimp in a colander by running cold water over it.Heat 1 teaspoon of butter in a skillet over medium-high heat.
Sauté shrimp until bright pink on the outside and meat is opaque, 3 to 4 minutes, being careful not to overcook.Blending remaining butter, heavy cream, cream cheese also leek in saucepan on heat.
Simmer until melted and well blended, about 5 minutes. Stir in Parmesan, garlic powder, salt and pepper. Simmer the Alfredo sauce over low heat for 15 to 20 minutes. Add the tortellini and heat through, about 5 minutes.
Toss the shrimp in the sauce, coating well. Garnish with parsley and serve.