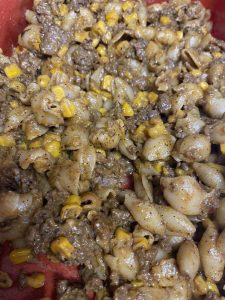 Cheeseburger Mac & Cheese (i call it homemade hamburger helper) the corn is optional i just like it

1 pound of ground beef
1 box Kraft deluxe Mac and cheese
*you can just boil noodles and add your own cheese but I've found this is easier and better*
Salt, pepper, paprika, 1-2 tablespoons sugar, (however you like it) a teaspoon of butter, chili powder, parsley, garlic powder, onion powder.
Make sure you cook separately! Make your noodles and cheese separate from your ground beef and whatever else you'd like to add, then when both are finished mix it together in a pan.
I season everything to taste but start out light and just add as you go. I've found it's better to add a few cups of shredded cheese but this is a cheap and easy recipe to where you make it however you like and it will still feed a family and taste good however!