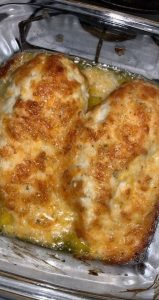 *Ingredients *
2 chicken breasts
1/2 cup Mayo (or a block of cream cheese, softened)
3 cloves of garlic minced
1 cup grated cheddar cheese
1 packet of ranch flavoring
*Directions *
Mix it all in a bowl and slather it onto your chicken breasts and bake for 30 minutes at 400°. Serve with mashed potatoes or rice, and asparagus or green beans! Enjoy!