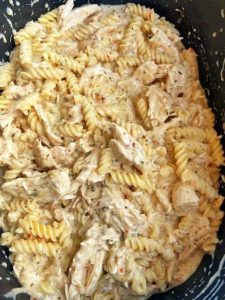 •Crockpot Garlic Parmesan Chicken Pasta••
Ingredients:
•1 (12 oz.) Bottle of Buffalo Wild Wings Parmesan Garlic Sauce
•2 lbs Boneless Skinless Chicken Breasts
•1 cup Milk
•8 oz. Cream Cheese, (Cut into Blocks)
•1 cup Shredded Parmesan Cheese
•12 oz. Pasta

Instructions:
•Place chicken in bottom of crockpot. Pour entire bottle of Parmesan Garlic Sauce over chicken.
•Fill Parmesan Garlic Sauce Bottle with milk and shake.
•Add milk and remaining sauce to crockpot.
•Add cream cheese cut into blocks.
•Add parmesan cheese and stir everything together to combine and coat chicken.
•Cook on low for 3-4 hours or high for 2-3 hours.
•Shred Chicken with two forks and return to crockpot, mix to combine in sauce.
•Cook pasta according to package and pour pasta into crockpot. Stir to combine and serve!
Note: This recipe is spicy!
Crockpot Garlic Parmesan Chicken Pasta is a flavorful and creamy pasta dish prepared using a crockpot (slow cooker). It features tender pieces of chicken cooked in a creamy garlic Parmesan sauce and served over pasta, creating a comforting and satisfying meal.
Q2: Can I use any type of pasta for this dish?
Yes, you can use your favorite type of pasta for this recipe. Popular choices include spaghetti, fettuccine, penne, or even rotini. Choose a pasta shape that holds sauce well to maximize the flavor.
Q3: Can I use chicken breasts instead of chicken thighs?
Yes, you can substitute chicken breasts for chicken thighs in this recipe. However, be mindful that chicken breasts tend to cook faster and can become dry if overcooked. To prevent this, reduce the cooking time or use a meat thermometer to ensure the chicken reaches an internal temperature of 165°F (74°C).
Q4: Can I prepare this recipe without a crockpot?
While the crockpot method provides a convenient and hands-off approach, you can certainly make a stovetop version of Garlic Parmesan Chicken Pasta. Cook the chicken in a skillet until fully cooked, prepare the sauce separately, and combine them. Toss the cooked pasta in the sauce and serve.
Q5: Can I freeze the leftovers?
Yes, you can freeze the leftovers of Crockpot Garlic Parmesan Chicken Pasta. Store the pasta in an airtight container in the freezer for up to 2-3 months. When reheating, add a splash of milk or chicken broth to the pasta to rejuvenate the creaminess.
Q6: Can I add vegetables to this dish?
Certainly! Vegetables like broccoli, spinach, cherry tomatoes, or mushrooms would complement the flavors of this dish well. Simply add them to the crockpot along with the chicken and sauce, ensuring they are not overcooked.
Q7: Can I use pre-grated Parmesan cheese instead of freshly grated?
While freshly grated Parmesan cheese offers the best flavor and texture, you can use pre-grated Parmesan if that's what you have on hand. However, be aware that pre-grated cheese often contains anti-caking agents, which might affect the consistency of the sauce slightly.
Q8: What can I serve as a side dish with Garlic Parmesan Chicken Pasta?
A fresh garden salad, garlic bread, or a side of steamed vegetables make excellent accompaniments to Garlic Parmesan Chicken Pasta. These options balance the richness of the pasta dish and provide a well-rounded meal.