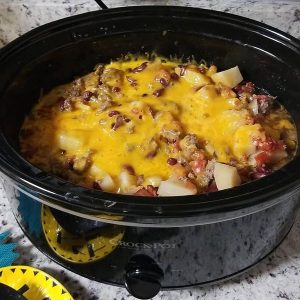 easy crockpot goodness!
Crockpot Cowboy Casserole.

6 potatoes
1 white onion
2 cans of kidney beans
2 cans of rotel
1 can of diced tomatos
1 lb of hamburger meat
1 lb of sausage
2 cups of cheddar cheese
Cook meat until brown add salt, pepper,garlic powder
Chop potatoes and onion add to crockpot
Add meat, rotel and beans

Cook on low for 4 hours add cheese last until melted and Enjoy!