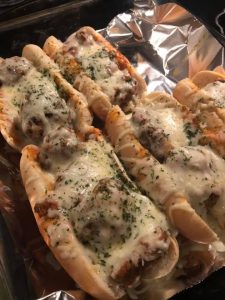 Ingredients
1 lb. ground beef
1 large egg
1/3 cup breadcrumbs
1/4 cup grated Parmesan cheese
2 garlic cloves, minced
1 Tbsp. chopped parsley
Kosher salt
Freshly ground black pepper
1 Tbsp. olive oil
2 cup marinara sauce
4 crusty Italian sandwich rolls
12 slices provolone
1/2 cup shredded mozzarella
1/4 cup shredded parmesan

Directions
Preheat oven to 375°F. Spray a baking sheet with non-stick spray.
Meatballs
In a large bowl, combine ground beef with egg, breadcrumbs, parmesan, garlic, and parsley.
Season with salt and pepper. Mix well.
Form into 12 evenly-sized meatballs.
In a large skillet over medium heat, heat oil.
Cook meatballs until seared on all sides, about 4 minutes. Add marinara sauce, gently stir, and cover with a lid.
Turn the heat down to simmer until the meatballs are no longer pink, about 8-10 minutes more. The internal temperature of the meatballs should be 160°F.
Prepare the Bread Boats
Cut a long rectangle through the top of the bread loaf and hollow the top of your hoagie roll out to make a boat.
Lay three slices of provolone over the roll to cover the hollowed-out area and bake for 5 minutes, until melted. Then place four meatballs on top of the cheese in a row.
Spoon marinara over the meatballs. Sprinkle the mozzarella equally over the meatballs. Then sprinkle the parmesan.
Place in the oven and bake 6-8 minutes more. Broil if desired.