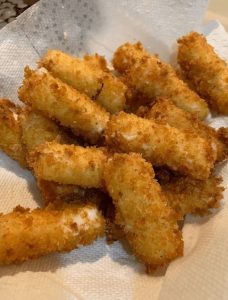 Ingredients
1 1/2 cups dry Italian breadcrumbs
1 1/3 cups freshly grated Parmesan cheese, divided
1 teaspoon salt
2 packages (16 ounces) of mozzarella sticks
4 large eggs, beaten to blend
1 1/2 cups vegetable oil

Instructions
In a medium bowl, combine bread crumbs, 1 cup Parmesan cheese, and salt.
Cut each mozzarella stick in half.
Beat the eggs in a shallow bowl and dip the cheese sticks into the eggs to coat completely and allow the excess egg to drip into the bowl. Coat the cheese in the breadcrumb mixture, tapping to adhere and coat completely. Repeat dipping the cheese sticks in the egg and breadcrumb mixture to coat a second time. Place cheese sticks on a baking sheet, cover, and freeze until frozen, about 2 hours.
Heat oil in a large skillet over medium heat. Working in batches, fry the cheese until golden brown, about 1 minute per side. Transfer fried cheese to plates. Sprinkle with remaining cheese and serve.