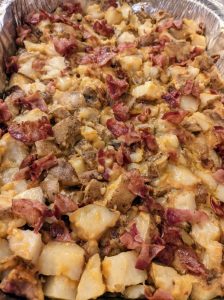 LOADED CHICKEN & POTATOES – OMG DON'T LOSE
ingredient
470g boneless chicken breast, I cut into 1-inch cubes.
8 medium red potatoes, peeled and cut into 1/2 cubes.
1/3 m of olive oil.
2 tablespoons garlic powder.
2 tbsp. of hot sauce, you can add more if you like it too hot.
1 tablespoon of paprika.
2 teaspoons salt.
1 teaspoon black pepper.
up:
2 c of Fiesta cheese mix.
1 c chopped green onions.
1 c of shredded bacon.