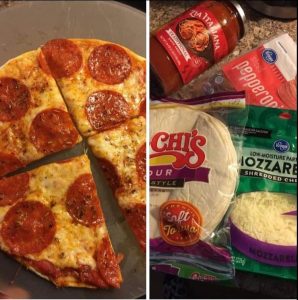 This recipe is perfect for those times when you're looking for a speedy and inexpensive meal option. With just a few simple ingredients and minimal prep, you can have a mouthwatering pizza ready in no time. By using tortilla shells as the base, you'll achieve a thin and crispy crust that pairs perfectly with your favorite toppings.
Whether you're craving classic marinara and cheese or want to get creative with your additions, this recipe allows for endless customization. Plus, the short cooking time of 10 minutes means you won't have to wait long to enjoy a satisfying and flavorful meal.
So, let's fire up the oven, gather our ingredients, and get ready to indulge in a delicious tortilla pizza that won't break the bank or take up too much of your precious time.
Need a quick and budget-friendly meal in just 10 minutes? Here's a revamped recipe for you:
Preheat your oven to 350°F (175°C).
Arrange tortilla shells on a baking sheet.
Spread a layer of spaghetti or pizza sauce over the tortilla shells.
Sprinkle a generous amount of shredded cheese on top.
Feel free to add your favorite toppings.
Pop the baking sheet into the oven and bake for 10 minutes.
Once done, remove from the oven, slice, and savor your delicious creation!