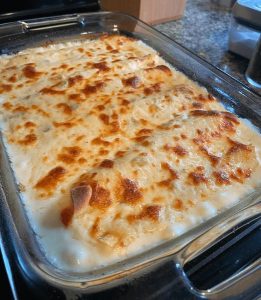 White Chicken Enchiladas

You will need
8 to 10 flour tortillas (about the size of a soft taco).
2 cups cooked and shredded chicken.
2 cups shredded Monterey Jack cheese
3 tablespoons butter.
3 tablespoons flour.
2 cups chicken broth.
1 cup sour cream.
1 4 oz can diced green chilies.
How to make:
Mix chicken with 1 cup of cheese then roll into tortillas and place in a sprayed 9×13 pan (seam side down).
Melt the butter in a small skillet over medium heat, then stir in the flour and cook for 1 minute. Add the broth and whisk until the sauce is smooth.
Once the sauce has thickened, turn off the heat and add the sour cream and chilies and stir until combined.
Pour the sauce over the enchiladas and top with the remaining cheese.
In a preheated 350° oven, bake for 20-25 minutes.
Easy, easy, and delicious! The chicken-filled tortillas, the sauce, the cheese… Honestly, guys, I fell in love with this recipe, you should definitely try it, it's worth it.