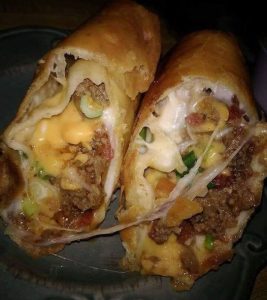 Ingredients
6 large Flour tortillas
1 pound Ground beef
1 cup Water (to add to cooked and seasoned beef)
2 cups Cheese, shredded
1 can of Refried pinto beans
2 cups Vegetable oil (to fry chimichangas)
Seasoning for ground beef
1 tablespoon Chili powder
1/2 tablespoon Seasoned salt
1/2 tablespoon Ground cumin
1 teaspoon Black pepper
1 teaspoon Garlic salt (or garlic powder)
1/2 teaspoon dried Oregano
1/2-1 cup Water
Topping Ideas
Sour cream
Shredded lettuce
Salsa
Chopped tomatoes
Instructions
Brown the ground beef in a skillet over medium heat. The meat is fully cooked when there is no longer any pink visible. Use a strainer to drain any excess grease from the skillet.
Put the meat back into the skillet over medium heat. Add all of the seasonings, and water and mix it together thoroughly. Continue to simmer until the water is absorbed.
Heat the vegetable oil in a separate skillet over medium heat. While the oil is heating up, begin assembling the burritos.
Place about one tablespoon of beans on one side of the tortilla and smear it across, somewhat close to the edge. Next place one to two tablespoons of the meat mixture, then a sprinkle of cheese (a generous sprinkle)!
Begin to roll the tortilla up over the mixture, once halfway rolled, fold in the sides towards the middle, then continue moving all the way until it is closed. Roll as tight as possible so that the mixture does not ooze out.
Continue rolling until all burritos are made or you run out of the mixture.
Place the burritos into the hot oil SEAM SIDE DOWN. Fry on each side for one to two minutes, or until they turn golden brown. Be sure to flip, and fry the sides of the burritos as well,
Remove from the oil and drain on a baking sheet or a bed of paper towels. Top with your favorite garnishes and salsas.