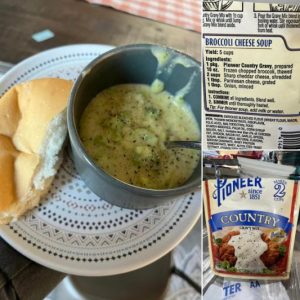 Broccoli cheddar soup, off the back of the Pioneer Gravy packet, you're missing out!! So flavorful, EASY, cheap, and Quick! I don't even thaw the broccoli as suggested just let it simmer in there for a few minutes. I also use my immersion blender so it's has smaller broccoli chunks because that's how my family prefers it 

I doubled it and my family devoured it all-3 adults and 3 kids
Recipe: Creamy Broccoli Cheddar Soup with Pioneer Gravy Packet
Ingredients:
2 packets of Pioneer Gravy Mix (or any other brand you prefer)
4 cups water
1 pound frozen broccoli florets (no need to thaw)
1 medium onion, finely chopped
3 cloves garlic, minced
2 cups sharp cheddar cheese, shredded
1 ½ cups heavy cream
2 tablespoons unsalted butter
Salt and pepper, to taste
Optional toppings: additional shredded cheddar cheese, croutons, or crispy bacon bits
Instructions:
Prepare the Gravy Base:

In a large pot, combine the Pioneer Gravy Mix with 4 cups of water. Whisk well to dissolve any lumps. Place the pot over medium heat and bring the mixture to a gentle boil, stirring constantly. Reduce the heat and let it simmer for 5 minutes, allowing the gravy to thicken.

Add Aromatics:

Add the finely chopped onion and minced garlic to the simmering gravy. Cook until the onions are translucent and the garlic is fragrant, stirring occasionally.

Incorporate Broccoli:

Add the frozen broccoli florets directly into the pot. Let the soup simmer for a few minutes until the broccoli is tender yet still vibrant green. The beauty of this recipe is that you don't need to thaw the broccoli in advance; it cooks perfectly in the simmering soup.

Blend to Desired Consistency:

Use an immersion blender to partially blend the soup, creating a creamy base with smaller broccoli chunks. Blend to your family's preferred consistency; some chunkiness is great for texture.

Add Cheese and Cream:

Stir in the shredded sharp cheddar cheese and continue to simmer until it's fully melted and incorporated into the soup. Pour in the heavy cream, stirring continuously, until the soup is smooth and velvety.

Season and Finish:

Taste the soup and season with salt and pepper as needed. Remember, the cheese and gravy mix already contain some salt, so adjust accordingly.

Serve and Enjoy:

Ladle the hot broccoli cheddar soup into bowls. If desired, top each serving with a handful of shredded cheddar cheese, croutons, or crispy bacon bits for extra flavor and texture.