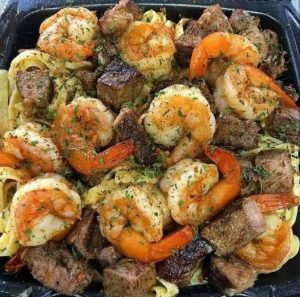 Cajun Shrimp And Steak Alfredo Pasta
Ingredients:
STEAK:
1 Ib. steak, cut into cubes (you can use Ribeye or Sirloin)
1/2 cup + 1 Tbsp extra virgin olive oil, divided
1/4 cup soy sauce
1/4 cup Worcestershire sauce
1 Tbsp garlic powder
1 Tbsp Cajun seasoning
1 Tbsp hot sauce
1 Tbsp brown sugar
1 tsp ground black pepper
2 Tbsp butter
2 garlic cloves, minced
1/8 – 1/4 tsp crushed red chili pepper flakes (optional)
PASTA:
½ tsp salt
1 Tbsp olive oil
1 Ib. Penne Pasta
SHRIMP:
10 oz shrimp, peeled and deveined (if frozen, thawed)
1 Tbsp olive oil
1 Tbsp cajun seasoning
Pinch of Salt
Pinch of freshly ground black pepper
ALFREDO SAUCE:
½ cup unsalted butter
4 oz. cream cheese, softened to room temperature
2 cups (1 pint) heavy cream
1 Tbsp Cajun seasoning
1/2 tsp salt, or to taste
1/2 tsp freshly ground black pepper, or to taste
1 and ½ cups freshly grated Parmesan
INSTRUCTIONS:
FOR THE STEAK MARINADE
Place the steak pieces inside of a Ziploc bag. Set aside.
Combine 1/2 cup extra virgin olive oil, soy sauce, Worcestershire sauce, garlic powder, Cajun seasoning, hot sauce, brown sugar and ground black pepper in a small bowl.
Pour the marinade inside of the ziploc bag, covering the meat. Seal tightly and refrigerate for 6-8 hours or preferably overnight.
FOR THE PASTA:
Fill a large pot with water and add ½ teaspoon of salt and 1 tablespoon of olive oil. Bring to a boil.
Add the pasta to the boiling water and cook according to package directions. Drain the pasta water and set the noodles aside.
FOR THE SHRIMP:
In a medium bowl, add shrimp, olive oil, cajun seasoning, and a pinch of salt and pepper and toss to combine and coat the shrimp.
Add shrimp to hot skillet and cook, stirring constantly until shrimp is pink. Scrape shrimp into a separate bowl and set aside.
FOR THE STEAK:
Heat 1 tablespoon of olive oil in the hot skillet.
Remove the steak marinade from the refrigerator. Remove the steak chunks from the marinade and place in the same skillet in a single layer.
Cook for 2-4 minutes, stirring occasionally until golden brown.
Add butter, minced garlic and crushed red pepper flakes and continue to cook for 1-2 minutes, stirring and tossing to coat the steak. Scrape into a separate bowl and set aside.
FOR THE ALFREDO SAUCE:
In the same skillet, melt the butter over medium-low heat. Once the butter is melted, add the cream cheese and heat until softened.
Pour in heavy cream and season with Cajun spice, salt, and pepper. Whisk to combine.
Bring to a low boil. Once boiling, decrease the heat to low and allow the sauce to simmer for 8-10 minutes, whisking occasionally. The sauce should be thick enough to coat a spoon.
Once the sauce has thickened, turn off the heat and add the parmesan. Stir until cheese is melted and combined. Taste the sauce and adjust the seasonings to your preference.