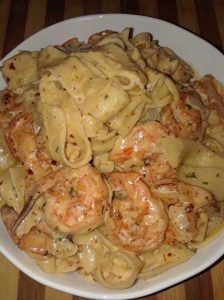 Ingredients

3 tablespoons unsalted butter divided
16 ounces large shrimp peeled, deveined, and tails removed
2 cloves garlic minced
2 cups chicken broth
1 cup milk
8 ounces of fettuccine noodles dry
1 cup parmesan cheese grated
1/2 cup heavy cream
1/4 teaspoon pepper
pinch nutmeg
parsley as a garnish

Instructions

In a sauté pan over medium heat, add two tablespoons of butter. Once hot, add shrimp and cook for 1-2 minutes on each side, or until opaque. Transfer to a plate or bowl and cover to keep warm.
Add the remaining butter and minced garlic to the pan. Cook for 30 seconds, making sure not to burn (garlic will cook quickly).

Add chicken broth, milk, and fettuccine noodles. Stir noodles to separate. Once the liquid comes to a boil, cover, reduce heat to low, and simmer for about 11 minutes (or until al dente according to your pasta's package directions).
Stir once halfway through to separate the noodles. Remove lid. Most of the liquid should be absorbed.
Add heavy cream, parmesan cheese, pepper, and nutmeg. Stir until the cheese is melted. Add shrimp and stir to combine. Remove pan from heat and allow to set for 5 minutes to allow for sauce to thicken.
Garnish with parsley before serving
Tips and Notes
Don't sauté the garlic any longer than a minute or it might burn and that leaves a very bitter taste
Break the noodles in half and add them to the pot, pressing down to fully submerge. Just make sure the noodles are under the liquid so they get cooked properly. Breaking them in half really helps.
If the sauce is still thin, allow the pasta to sit in the Instant Pot on Keep Warm for a few minutes to soak up the liquid. It will thicken as it sits. Just don't let it sit too long or the sauce will become thick and dry.