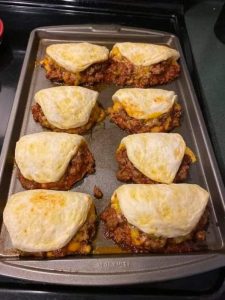 Canned biscuits (butter tastin)
A block Sharp cheddar cheese grated (it's cheaper and once you have freshly grated cheese you'll never go back to bagged cheese)
Sloppy joe meat (1lb hamburger meat & 1 can of manwich)
Spray a cookie sheet. Flattened out the biscuits to about the size of my hand. Sprinkled cheese. Added one spoonful of sloppy joe on one side.
Fold over the other side. Pop in the over at 350 for 8-10. (The most magical part was when it was in the over it gave me just enough time to clean up the mess & dishes!) The whole process took no more than 25 minutes.
To reheat, pop back in the oven for about 3ish minutes. I tried the microwave first but they came out a little doughy.
After the putting the sloppy joe in 8 of the biscuits (a whole can) I still had enough left to put on a bun like a regular ole sloppy joe.
Will most definitely be making these again!