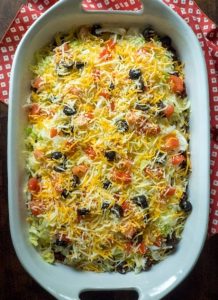 Cheesy Taco Casserole

INGREDIENTS:
2 pounds ground beef
1 (1 oz.) packet taco seasoning
4 eggs
3/4 cup whole milk
1 3/4 cups biscuit mix or bisquick
1/2 cup sour cream
2 cups lettuce, chopped or shredded
1 cup tomato, finely chopped
2 cups sharp cheddar cheese, grated
Black olives, sliced, optional
Kosher salt and freshly ground pepper, to taste
PREPARATION:
Preheat oven to 400º F and lightly grease a 9×13-inch baking dish with non-stick spray.
In a large bowl, beat eggs and milk together until combined, then stir in biscuit mix, and salt and pepper, if using. Set aside.
Season beef with salt and pepper, then cook until browned. Drain fat, then stir in taco seasoning.
Place beef in an even layer in greased baking dish, then spread biscuit mix in an even layer on top of beef.
Transfer baking dish to oven and bake until biscuit layer is golden brown, 22-25 minutes.
Remove from oven and let cool, then spread sour cream on top of biscuits.
Top with chopped lettuce, tomatoes and olives, if using, then sprinkle cheddar cheese on top.
Serve hot and enjoy!