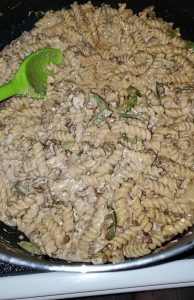 Philly Cheese steak pasta.
I'm blessed enough to get WIC, so I had whole wheat pasta, shredded mozzarella, onion and a green pepper I got from WIC.
I bought 1 lb hamburger ($1.99). 1 jar Alfredo ($1.88).
Philly Cheesesteak Pasta
Ingredients:
1 lb whole wheat pasta (provided by WIC)
1 lb ground hamburger ($1.99)
1 jar Alfredo sauce ($1.88)
1 medium onion, thinly sliced (provided by WIC)
1 green pepper, thinly sliced (provided by WIC)
1 cup shredded mozzarella cheese (provided by WIC)
2 tablespoons olive oil
Salt and pepper, to taste
Fresh parsley, chopped, for garnish
Instructions:
1. Cook the Pasta:
Bring a large pot of salted water to a boil.
Cook the whole wheat pasta according to the package instructions until al dente. Drain and set aside.
2. Prepare the Meat and Vegetables:
In a large skillet, heat 1 tablespoon of olive oil over medium-high heat.
Add the ground hamburger to the skillet. Break it apart with a wooden spoon and cook until browned and cooked through. Remove the cooked meat from the skillet and set aside.
In the same skillet, add another tablespoon of olive oil.
Add the thinly sliced onion and green pepper. Cook until they are soft and slightly caramelized, about 5-6 minutes.
3. Combine Pasta, Meat, and Vegetables:
Return the cooked hamburger to the skillet with the onions and green peppers.
Pour the jar of Alfredo sauce over the meat and vegetables. Stir well to combine and let it simmer for a few minutes until everything is heated through and well mixed.
4. Combine with Pasta:
Add the cooked whole wheat pasta to the skillet. Toss everything together until the pasta is well coated with the Alfredo sauce and mixed evenly with the meat and vegetables.
Season with salt and pepper to taste. Remember, the cheese and Alfredo sauce might already have some salt, so taste before adding more.
Remove the skillet from the heat.
5. Add Shredded Mozzarella:
Sprinkle the shredded mozzarella cheese over the top of the pasta.
Cover the skillet with a lid and let it sit for a minute or two until the cheese melts and becomes gooey.
6. Serve:
Once the cheese is melted, give the pasta a final gentle toss.
Garnish with chopped fresh parsley for a burst of color and freshness.