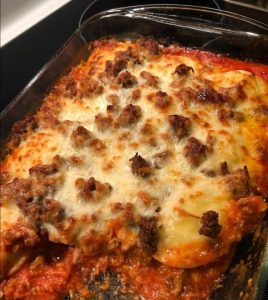 Easy Baked Ravioli Casserole Recipe

Ingredients :
1 25-ounces pkg. frozen cheese ravioli
1 yellow onion diced
1 pound ground beef
1 ½ – 2 c. shredded mozzarella cheese
1 26-ounce jar pasta sauce
HOW TO MAKE EASY BAKED RAVIOLI CASSEROLE
Step 1: Prepare the oven. Preheat it to 425 degrees F. Using a nonstick spray, grease an 11 x 7 x 8 x 13-inch baking dish.
Step 2: Cook the ground beef with the diced onion in a skillet over medium heat. When done, drain the excess grease.
Step 3: On the bottom of the prepared dish, layer 1 cup of the pasta sauce. Top with half of the frozen ravioli, then half of the beef mixture, and half of the cheese. Do the same layering (1 cup pasta sauce, then the rest of the ravioli and beef mixture).
Step 4: On top, add the rest of the pasta sauce and sprinkle with the remaining cheese.
Step 5: Tent the baking dish with foil and place it in the preheated oven. Bake the casserole for about 30 minutes. Uncover and continue to bake for an additional 8 to 10 minutes or until the cheese has melted and the sauce is bubbly.
Step 6: Remove from the oven when done and serve the casserole with some garlic bread and a nice crisp, green salad. Enjoy!