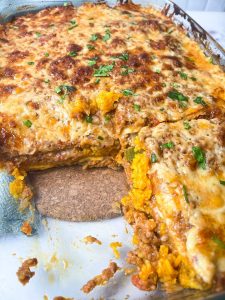 Easy Burrito Casserole
My husband and I could barely walk back into the kitchen after dinner because we ate so much of this! Haha. It's too yummy to resist!
Ingredients
1 16-ounce can of refried beans
1 14-ounce can of whole kernel corn, drained
1 ½ pounds of ground beef, or choice of meat
1 package taco seasoning mix
1 can enchilada sauce
1 smaller can of green chilis
8 large tortillas, your choice, cut in half
2 cups Fiesta blend cheese, shredded
Green onions, chopped for garnish
Instructions
Preheat the oven to 350*
Brown the ground beef in a large skillet
Add in the taco seasoning and simmer for a few minutes
Stir in the enchilada sauce, the refried beans, the corn and the small can of green chilis
Stir to combine well and simmer for a few more minutes to heat through
In a 9×13 baking pan, grease the bottom well, then place four of the cut tortillas to cover the bottom of the pan
Top the first layer of tortillas with half of the meat mixture and half of the shredded cheese
Place another layer of the cut tortillas on top of the cheese
Cover the tortillas with the remaining meat mixture and the remainder of the shredded cheese.
Bake for 20 minutes
Garnish with chopped green onions
Have small dishes of salsa, sour cream, chilis, and anything else your family or friends like to put with their burritos.
Enjoy!