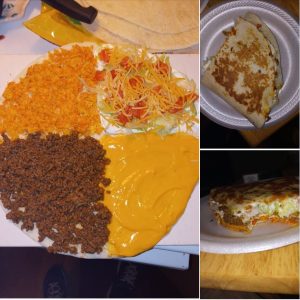 Homemade Crunchwrap Supremes for dinner
I'll never buy another one from Taco Bell.
Cook and crumble 1 lb ground meat, drain the grease, then add 1 packet of taco seasoning mix and water according to the package instructions.
Warm up nacho cheese sauce and set aside. Warm 6 burrito-size flour tortillas in the microwave for 20 seconds. Spread nacho cheese in the center of each tortilla, then add ½ cup of taco meat, a tostada shell, a layer of sour cream, lettuce, tomato, and shredded Mexican cheese.
Fold the bottom edge of the tortilla up to the center, then fold around the fillings tightly. Cook each crunch wrap supreme in a skillet over medium heat for 2-3 minutes on each side until golden brown. Serve immediately.