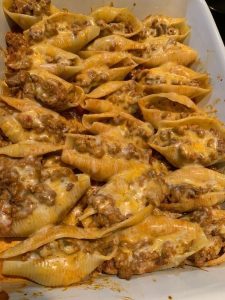 Ingredients
16 jumbo pasta shells
1 pound ground beef
1 (1.25 ounce) package of taco seasoning mix
1 cup water
1 (16-ounce) can of refried beans
¾ cup shredded Cheddar cheese
1 (16 ounces) jar of salsa, divided
¼ cup sliced green onion
¼ cup shredded Cheddar cheese
½ cup sour cream (Optional)
Directions
Preheat the oven to 350 degrees F (175 degrees C).
Bring a large pot of water to a boil over high heat. Stir in the shell pasta, and return to a boil. Cook the pasta uncovered, until just slightly firm to the bite, about 13 minutes. Drain well.
Brown the ground beef in a large skillet; drain fat. Stir in the taco seasoning and water; cook over low heat until thickened, about 5 minutes. Stir the refried beans and 3/4 cup of Cheddar cheese into the taco meat. Spoon meat mixture into prepared pasta shells.
Spoon 1/4 cup salsa over the bottom of a 9×13-inch baking dish. Arrange filled shells over salsa. Spoon remaining salsa over shells.
Bake in preheated oven for 40 minutes. Remove from oven; sprinkle with sliced green onion and 1/4 cup shredded Cheddar cheese. Serve with sour cream.