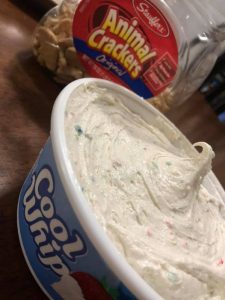 • 8 oz Cool Whip (thawed)
• 1 1/2 cups (12 oz) vanilla Greek yogurt
• 1 1/2 cups (15.25 oz) Funfetti cake mix any brand)
• 1 tsp pure vanilla extract
• Optional: colorful sprinkles for garnish
• Assorted dippers: animal crackers, graham crackers, apple slices, Teddy Grahams, Oreos, chocolate chip cookies, etc.
1. In a large mixing bowl, combine the thawed Cool Whip and vanilla Greek yogurt. The Cool Whip provides a smoother and creamier texture compared to alternatives like Reddi-Wip.
2. Add in the Funfetti cake mix, making sure to only use the dry mix and disregarding the instructions on the package.
3. Pour in the vanilla extract, giving the dip a delightful flavor boost.
4. Using a hand or stand mixer, blend the ingredients on low to medium speed for about two minutes. Initially, the mixture will be quite thick, but it will become smoother as you continue to mix.
5. Once the dip is thoroughly combined and smooth, cover the bowl and refrigerate for at least an hour. You can also let it chill overnight for a more frosting-like consistency.
6. When the Funfetti Cake Dip has reached your desired consistency, transfer it to a serving bowl.
Optionally, you can add a sprinkle of colorful decorations to match any theme, from baby showers to holiday events.
7. Serve the dip with a variety of dippers, such as animal crackers, graham crackers, apple slices,
Teddy Grahams, Oreos, or chocolate chip cookies – the possibilities are endless!
With just four main ingredients and a quick preparation time, this Funfetti Cake Dip is a delightful treat that's perfect for any gathering.